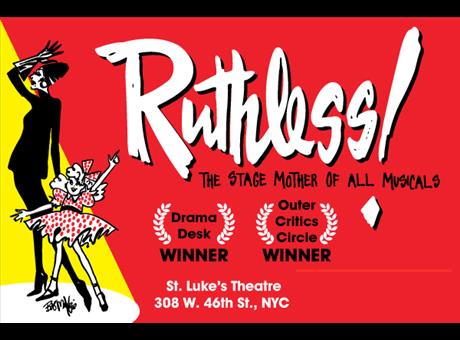 Reviewed by George J. Leonard, San Francisco State University.
GRADE: A+
Ruthless! The Musical 2015 is a godsend for families visiting NYC this summer. Dread spending $500 for four tickets in the bleachers to Jersey Boys, only to have your kids roll their eyes at the old music? This energetic revival of the Broadway hit works for everyone. Grownups will enjoy Ruthless! as a hip parody of all those campy show biz dramas in which an actress claws her way to the top—but since this actress is an evil ten-year-old, sort of an evil Hannah Montana, the kids will enjoy her too. Tina Denmark (Tori Murray) is quite willing to whack somebody to star in the 4th grade class play. The acting is broad, good-natured parody, like our San Francisco's Beach Blanket Babylon, or the zany parodies on Community (or Zach Braff's Scrubs, if you remember.) Just fun.
Happily, one no longer has to take a critic's word for it. Since it's a revival, you can check out sample scenes from previous productions on You Tube. Try Tina's manic audition for her agent, "Born to Entertain," or the funny scene where, cast in the humiliating role of Pippi Longstocking's dog, "Puddles," behind a no-talent chick whose parents donated lumber for the sets. Tina, steaming, has been given only one line, "Woof." I love the way she battles to upstage her rival, until she decides it's simpler to bump her off with her jump rope.
There's no video posted yet of the current production's Tori Murray as Tina, but the dean of NY theater critics, Rex Reed, calls her in The Observer, "a scene stealer named Tori Murray who looks like Shirley Temple and belts like Ethel Merman." TheaterMania's critic, Zachary Stewart, adds, "she has one of the most powerful sets of pipes currently exhibited off-Broadway (and all at the tender age of 10). The moment she enters for her introductory number, 'Born to Entertain,' the stage lights up. . . . Murray has a big future in showbiz." (July 14, 2015.) With reviews like that, I suspect they'll put some video of Miss Murray online soon.
Ruthless! is a popular high school production, but at the end you'll find a couple of videos to other professional performances.
So Ruthless! The Musical 2015 is a good choice for anybody and a great choice for a family. If you're buying four or five tickets, it matters that Ruthless! costs less than half of what you'd spend on a Broadway show, and I like the location, too. It's only one block off Broadway, on 46th and 8th. A family can start the evening for free in the fun and neon of Times Square, then at curtain time walk west on 46th through the excited crowds jamming into the theaters, cross 8th Ave and you're there. (It's a safe walk too. Memo to Mayor Lee: when you leave one of our Market Street theaters at 9:30 pm, the theater must provide security guards all the way to the public lots. In NYC's Theater District, no need of that at all.)
In sum: A+ for the whole experience. If you're a San Franciscan doing the family college-visit trip or just taking them all to the Big Apple for the fun of it, and want to include a real New York musical the whole family will enjoy—without spending half-a-year's college tuition on it—Ruthless! The Musical 2015 is the answer.