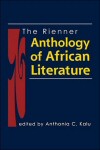 The Rienner Anthology of African Literature
Edited by Anthonia C. Kalu. Lynne Rienner, Publishers Boulder, London 2007. pp. i-xiii,1-976 $125. ISBN: 9781588264916
Reviewed by Saul Steier, San Francisco State University.
You know a field has "arrived" when its rich content is such that it is no longer possible to represent it adequately with random selected individual works. The publishing sign of that moment of arrival is the "Anthology."
It makes me very happy to see that African Literature, a field in which I have been teaching for twenty years, has finally been elevated to Anthology status. To be sure, it is not a Norton or a Longman's with an array of famous scholars, each of which is given editorial responsibility over a single area within the entire field. Rather, the Rienner Anthology Of African Literature is a Herculean labor of dedication and love by a single individual, Professor Anthonia C. Kalu of the University of Northern Colorado.
Professor Kalu has organized her Anthology of African Literature chronologically, from what is assumed to be a pre-contact period of "Oral Tradition" through the periods of chattel slavery and colonialism up to the post-colonial present. For each of these "periods" selections are included from the continent on a geographical basis: North, West, Central, East and Southern. The Anthology's selections are from countries with different colonial heritages and histories, so many of the works have been translated.
In order to maximize authorial representation, Professor Kalu has chosen to use excerpts from longer works– a decision which will not please all potential users. And, as is inevitable in such an endeavor, there are significant omissions of authors who, had the task of choosing been this reviewer's, would have had to be included. There is nothing by Sony Labou Tansi, Kodjo Liang, Ben Okri, Mongo Beti and Ahmadou Korouma.
But the Anthology's range is broad in a variety of genres; all the "classics" are there; and works written originally in the indigenous languages also have their place. There is a useful introduction, short biographical sketches on each of the authors, and a list of suggested readings. Here too I was struck by some of the omissions: Simon Gikandi, Achille Mbembe, Ato Quayson,Tejumola Olaniyan, Olakunle George, Karen Barber, Stephanie Newell. In spite of its problems, however, the incontestable value of this anthology is in its gathering together of, and making available, materials which show the range, richness and variety of the corpus.
Professor Kalu is to be thanked and congratulated for having recognized and responded to the need for such a work and to Lynne Rienner for publishing it. The book is expensive ($125) so I wouldn't be likely to require it for a course, but every undergraduate library in the country should have a copy of it on its shelves. I am profoundly pleased the field has finally "arrived."
(Saul Steier chairs the Department of Interdisciplinary Humanities at San Francisco State University.)